UPDATE: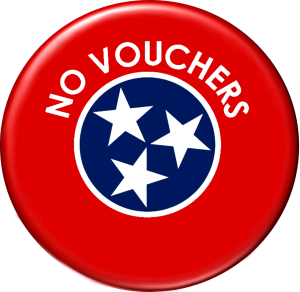 The House has voted to suspend the rules and allow items to "Flow" through committees, even if they are not on the calendar! That means the voucher bill could pass through the subcommittee and on to the full committee very, quickly.
This bill needs to be stopped now.
Please encourage your relatives, co-workers, neighbors, and friends (heck, even call on your enemies!) to do a little letter writing, to tell the Finance Ways and Means subcommittee that taking money AWAY from struggling schools and giving it to private institutions is NOT the way to help struggling schools and neighborhoods succeed!
If you need ideas to get your letter started, NEA has a great article:
The Case Against Vouchers
More info is available at the following links:
Fiscal impact to TN: http://www.capitol.tn.gov/Bills/109/Fiscal/HB1049.pdf
"… the shift of state and required local BEP funding from these local education agencies to the non-public participating schools is estimated as follows:
 $  16,570,000.00 in FY15-16;
 $  25,473,800.00 in FY16- 17;
 $  34,815,000.00 in FY17-18; and an amount exceeding
 $  69,630,000.00 in FY18-19 and subsequent years."

[$146,488,800.00+ in the first 4 years]
The full bill: http://www.capitol.tn.gov/Bills/109/Bill/HB1049.pdf
Amendments to the original bill:
http://www.capitol.tn.gov/Bills/109/Amend/HA0182.pdf
http://www.capitol.tn.gov/Bills/109/Amend/HA0231.pdf
Also – please note that the Knox County Board of Education voted AGAINST supporting vouchers, yet Representative Dunn keeps pushing on, claiming to be doing it "for Memphis." I have been in several of those committee meetings, and have yet to hear anyone from Memphis asking for this kind of support. On the contrary, their representatives are voting AGAINST this bill.
While writing, it would also be worthwhile to contact Representatives Harry Brooks, Bill Dunn, and Eddie Smith, to ask why they voted for the supposed interests of Memphis, rather than representing their constituents in Knoxville!
---
House Subcommittee – Finance Ways and Means
If you prefer to email all sub-committee members at once, just copy/past the list below into your email address field:
rep.mike.harrison@capitol.tn.gov; rep.david.alexander@capitol.tn.gov;
rep.joe.armstrong@capitol.tn.gov; rep.kevin.brooks@capitol.tn.gov; rep.karen.camper@capitol.tn.gov; rep.craig.fitzhugh@capitol.tn.gov;
rep.david.hawk@capitol.tn.gov; rep.ryan.haynes@capitol.tn.gov;
rep.gerald.mccormick@capitol.tn.gov; rep.steve.mcdaniel@capitol.tn.gov;
rep.curry.todd@capitol.tn.gov
***Depending on your mail program, you may need to use commas, rather than semicolons, between recipients. You may also choose to click each email link to send individual emails. If you have problems with the list or the links, please let me know: Email Me.
---
Additional information about the subcommittee is here:
http://www.capitol.tn.gov/house/committees/sub-finance.html
Additional information about the full committee is here: http://www.capitol.tn.gov/house/committees/finance.html
House – Finance Ways and Means Full Committee

Knox County Representatives: