Please help your friends, relatives, and neighbors to become registered and informed voters. Links to voting forms, information, services, and more are available in the links on this page.
GoVoteTN App
Use the GoVoteTN app to view a sample ballot, locate your polling location, and learn about your district: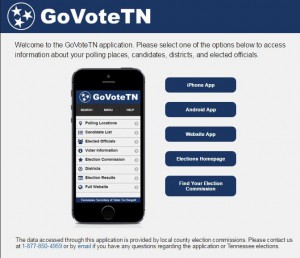 Information in the application is provided by Tennessee county election commissions.  It is available for iOS and Android mobile devices, as well as online.
---
You must be a qualified voter to register. View voter qualifications.
Register to Vote in Tennessee:
There are EASY ways to register to vote in the State of Tennessee: 
register in person at:

County Clerk's Offices
County Election Commission Office
Public Libraries
Register of Deeds Offices

or during a transaction with one of the following:

Department of Health (WIC program)
Department of Human Services
Department of Intellectual and Developmental Disabilities
Department of Mental Health
Department of Safety (motor vehicles division)
Department of Veteran's Affairs
---
Voter ID Law:
Starting in 2012, registered voters in Tennessee must show government-issued photo identification in order to cast a ballot at the polls.
To see a list of acceptable photo IDs or how to obtain one, please CLICK HERE 
The law requiring a government-issued photo ID only applies when voting at polling places.
It does not apply to those casting absentee ballots. 
---
Absentee Ballots
The following citizens may request an absentee ballot:
Over age 60  
Voters covered under the Uniformed and Overseas Citizen Absentee Voting Act*
Full-time students (or spouse) institutions inside TN, but outside the county where  registered*
Voters with a disability, if their polling place is inaccessible
Residents of a licensed living facility, outside the county, i.e. nursing homes*
Persons hospitalized, ill, or disabled & unable to appear at a polling place and their caretakers*
Candidates
Persons on jury duty in a state or federal court
Election officials and members or employees of the election commission*
Persons observing a religious holiday that prevents them from voting early or on Election Day
Persons with CDL or a TWIC, who will be out of county during early voting & Election Day*
* Please see specific requirements HERE. 
An Absentee Ballot Request can be downloaded HERE.
---
Campaign Finance Limit Changes for 2015 & 2016
Contribution Limits have been updated for 2015 and 2016 based on changes in the CPI. Changes are effective January 1, 2015. Click here for the new 2015-2016 limits.
---