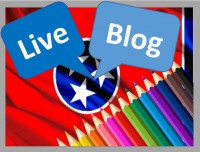 Thank you for joining us!
The live blog for the Knox County Schools Board of Education Mid-Month Work Session, October 19, 2015 will begin at 5PM.
To follow the blog, just leave this page open and it will automatically update. If your page does not update, try refreshing your page or using another browser. If you have trouble with this page, please let me know in the comments.
Documents in tonight's presentation are available, here:
Continue reading… KCS BOE Live Blog 6-19-15